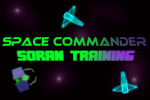 Space Commander: Soran Training
Created By Marko
Set in a hologram training simulator, the player stars as a Soran fighter pilot as they train to destroy as many hologram representations of Earth's enemy fighter ships and score as many points as possible before the timer runs out.
Scores increase via the following:
1. Shooting holographic enemy ships
2. Collecting bonuses for multiple "kills"
3. Bonus points are scored at the end of the game for total number of ships destroyed and number of times secondary fire is engaged
Once holographic ships are destroyed they leave behind timer cubes. Both shooting ships and collecting timer cubes increase the secondary fire energy bar which, once filled, allows the player to engage the secondary fire. Collecting timer cubes also extends the timer counter, allowing the player more opportunity to play and score.